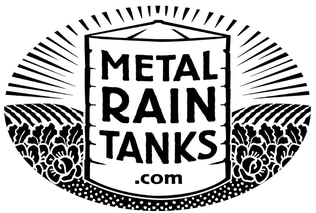 Metal Rain Tank Ordering Information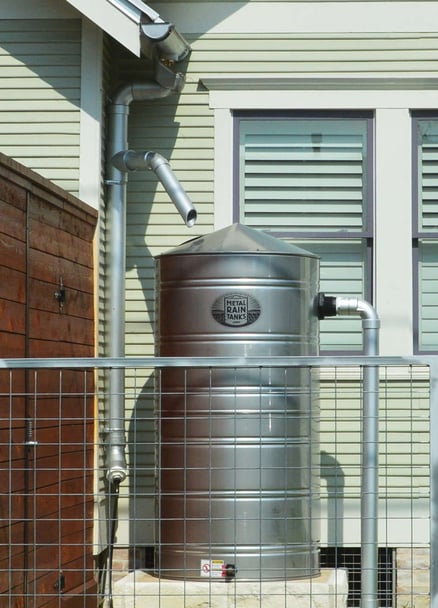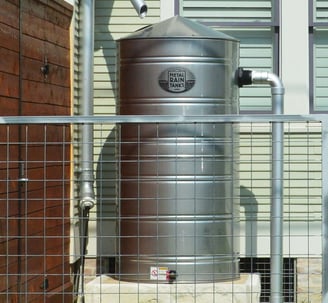 Fittings and Accessories

Tank fittings to meet your needs:
Our tanks are all equipped with a 3/4" or 1.25" high performance watertight bulkhead fitting at the bottom.

Every rain tank needs an inlet and an overflow. We offer the same high quality bulkhead fittings and we can help you choose the right size for your application. Tanks from 300 to 1,000 gallons are supplied with 3" inlet and overflow fittings, plus a leaf shedding screened inlet device (Leaf Eater) and mosquito-screened Flap Valve for the overflow.
Above 1,000 gallons, our tanks are outfitted with 4" fittings, plus the Leaf Eater and mosquito screen for the overflow. Additional fittings are available from 1/2" up to 4" and vary in price according to size.

For the smaller tanks, 200 and below, we provide a Downspout Diverter which is a simple device that plugs into your downspout and keeps debris and critters out of the tank, as well as providing overflow protection. These diverters come standard with the tank, as well as a 3/4" fitting for outlet.

The best way to specify fitting locations on your tank is to imagine looking down on the tank from above, with the front of the tank as 6:00. This means that a fitting at the left as you look at the tank from the front would be 9:00.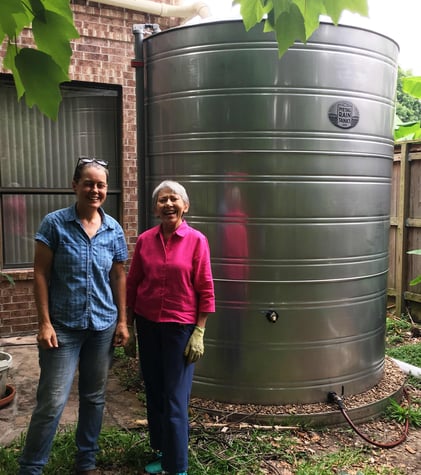 Ordering Details:
How soon can I get my tank?
Our stainless steel rainwater tanks are generally built to order, which takes 4-6 weeks. We may have some in stock -- just drop us a line or give us a call for inventory.

Picking up your tank:
Pick up your Virginia-built rainwater tank (by appointment, please!). We are located in Martinsville, VA, less than an hour from Greensboro NC or Roanoke VA. Smaller tanks travel well in the bed of a pickup truck. Tanks over 500 gallons need to travel standing upright. Transporting tanks is straightforward, but please feel free to ask a question now and save a headache later.

Shipping tanks:
We can ship your rainwater tank anywhere in the US from our fabrication shop in Virginia. Metal Rain Tanks ship via common carrier from zip code 24112. Contact us for shipping quotes; crating fees will apply.
If you are in the western half of the country, consider our friends at Omi Rain Tanks in Houston TX.

Tank placement:
Water storage tanks must be placed on a flat, level and solid pad such as crushed granite or concrete. Bear in mind that a full 1,000 gallon tank is over four tons! Pea gravel is not recommended, due to settling and voids which can leave the bottom of the tank unsupported, and sharp or uneven stones and gravel can damage the bottom. Please be safe.
Can I bury the Tank?
Our rainwater tanks are designed for above-ground water storage only, not for being buried.

Maintenance:
Your stainless steel rainwater storage tanks are generally maintenance-free. Never use bleach or other chlorine products either inside the tank or for cleaning - it will cause the stainless to turn milky and possibly corrode. Chlorinated tap water is fine. Should internal cleaning be required, unscrew the lid and remove it for access.

Metal Rain Tanks, LLC
221 Bridge St S
Martinsville, VA 24112
(276) 252-8700
MetalRainTanks@gmail.com
We love rainwater! Call us (276.252.8700) with your questions, email MetalRainTanks@gmail.com, or use this form. But don't try to message us on social media or you could be waiting a while for an answer!